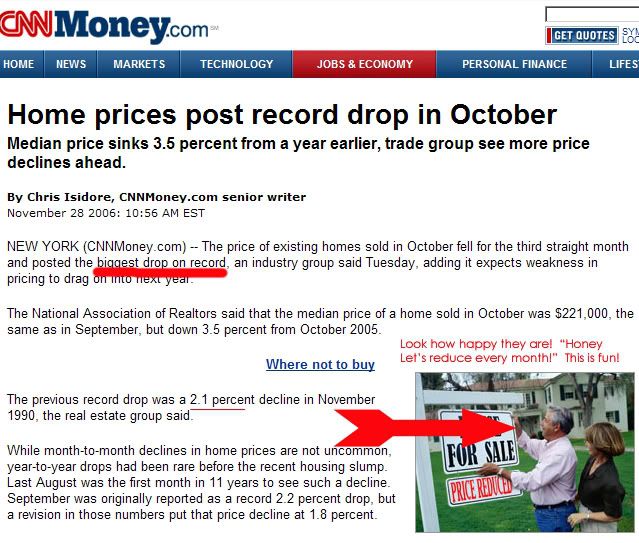 Where do I start today? Negative news regarding housing is hitting the presswires fast and furious. First, CNN published a headline story describing that Nationally, housing has faced a
record
year-over-year decline in October.
Biggest Recorded Drop Ever
In addition, I was able to catch a glimpse this morning on CBS MarketWatch a headline story posting "Housing Sligthly Rebounds." This story was pulled because opening the article I found that sales increased by a meager .5 percent, stopping (pausing?) a slide since February. In addition, the major factor that should have headlined was the record year-over-year price drop (kudos to CNN). My only conclusion to this journalistic faux pas was someone trying to spin the data; after all this is data from the National Association of Realtors, otherwise known as Bozo the circus clown of housing.
Next, the Wall Street Journal published an article showing areas that are overvalued. Take a look below for a snapshot of the article: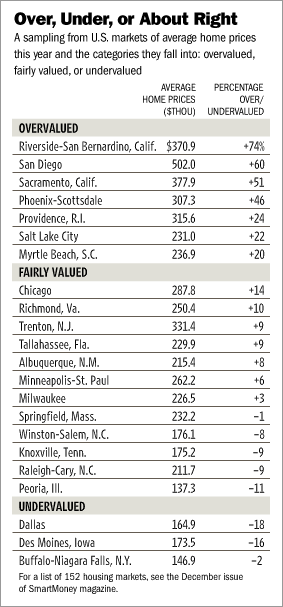 The article can be found
here
but take a look at this brilliant quote from the Jack in the Box talking head, David Lereah:
"David Lereah, chief economist of the National Association of Realtors, expects that nationwide prices will
bounce back in 2007.He adds that one-third of the country is primed for growth
-- a claim that Mr. Winzer's research supports. And if you don't have to sell your home, the short-term turmoil underscores the point that it seldom makes sense to obsess over your home's value the way you'd obsess over, say, your Google shares. Better to sit back, enjoy your mortgage-interest tax deduction, and wait for better days."
I'm hoping that you haven't choked on your tongue after reading the above paragraph. This idiot is such a maestro when it comes to spinning bad news, maybe he should apply for the position of Ambassador to Iraq. One-third of the country is primed for growth? You mean like Texas, Montana, North Dakota, and so on and so on. How in the world he sees real estate bouncing back in 2007 is beyond my knowledge but it certainly won't be the case for the coastal areas including, guess what, California! Oh my, more and more the media is finding it more difficult to spin the absurdity of what these morons are spewing.
Take a look at the chart again. San Diego is overvalued by
60 percent
meaning prices should be around $210,000. Does it look like we will reach those prices anytime soon with all these delusional home owners thinking their 1,000 square foot box is worth half a million? I do agree with Lereah that prices will bounce; bounce off a cliff that is in 2007. As the housing lemming mafia marches to their doom, the drum beat of massive mortgage resets, recession, declining dollar, and housing related job losses is getting louder each day. My guess is that September of 2007 we will finally get the full effect of what is occurring and sellers will understand what it means to be underwater. You think someone that just lost $100,000 of equity is not going to feel the psychological effect? At this moment the Doctor recommends do not buy
ANYWHERE
in California until this mess clears up.
What is your guess for the turning point in housing psychology?