The housing speculator-orgy-mortgage-bubble keeps marching on to a different beat in sunny Southern California. Today we salute Pico Rivera for giving us this wonderful example of loony housing prices. When we are talking about $536 per sq/ft we are not describing a posh home in Malibu or a nice fixer upper in Brentwood, we are talking about Pico Rivera. The home above is currently listed for $438,000 after being dropped by $10,000 (what a deal!). This home has been on the market three months and somehow I think it will stay there for a while, just a hunch. Let us examine the previous sales history: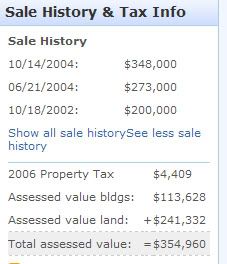 So let me get this straight, you're telling me this home is worth $238,000 more than it was in 2002? To break it down further, this uber-wealthy home went up
$59,500 per year
; much higher than the annual family median income in the area! Now I understand those late night commercials with the folks in the Hawaiian shirts and the golden tans; why work when owning a house produces more money than a 9 to 5 job. Let us all live in our houses and perpetually get rich. Here I was feeling bad that David Beckham was going to get $250,000,000 for five years essentially being a poster boy for the LA Galaxy. Now all we need to do is buy a home ANYWHERE in Southern California and ride this wave to another housing galaxy.
We salute you Pico Rivera with today's
Real Homes of Genius
award.