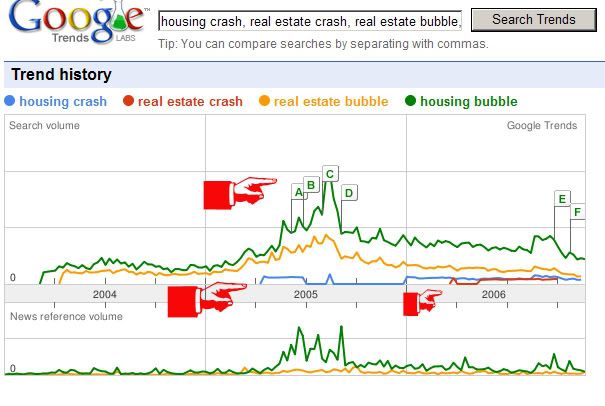 There was a post on a housing blog recently talking about the decrease in those searching for the illustrious "housing bubble" we all know is here. The way the article was written, they were trying to point toward a decrease in housing bubble blog news with the implication that housing bubble heads like myself are on their way out. Are you kidding me? The fun is just beginning and I'm not sure the breadth of their research but I'll like to point something out and show the shift in housing energy.
As you can see from the above Google Trends picture that I queried, yes those searching for "housing bubble" or "real estate bubble" information did decrease. The peak was in Q2 and Q3 of 2005. Yet we notice a new birth at this time as well. Like the sun peaking with orange and yellow rays over the horizon we begin to see the emergence of a new trend; we see the dreaded words of
crash
appearing. Interestingly enough we see this trend sprout up about the same time that the other "bubble" trend peaked. Now we are seeing the word "crash" appearing in a significant amount to be spotted on the Google radar.
I have no patience for those saying "yes, we just had our correction and now it is time to jump back on the housing appreciation bandwagon." There was no correction! I almost feel like someone is trying to convince us still that there are WMD in some part of the world. Do your own research and crunch your own numbers. The conclusion should be rather obvious.