I've been inspired to think about the last 50 years regarding the evolution of housing in Los Angeles. What was going on in the 1950s?

*Elvis Presley was hitting the scene with his rebellious music and fashion.
*Many jobs were in manufacturing and food processing.
*Betty Crocker was the model of food cooking and recipe development.
*The Ed Sullivan show was a major hit.
*Marilyn Monroe on the scene.
*One wage families the majority.
*Divorce was not as easy in the fifties.
So this gives you a general overview of the culture of the time. Not to give you visions of apple pie cooking in the oven and Lassie running out in the lawn but this is a snapshot of history. Ironically, a couple of things have made full circle; look at the recent death of Anna Nicole and the fame and fall of Martha Stewart. Ed Sullivan was about discovering talent and what about the current American Idol? History doesn't repeat itself but it does rhyme to paraphrase Mark Twain. What about the cost of items? I found an article from a local Los Angeles city newsletter discussing the price of items fifty years ago:
Average Automobile:
$2,156
Average Gallon of Milk: $1
Cost of a movie ticket: $1
Cost of single family home:
$12,700
Average household income:
$4,564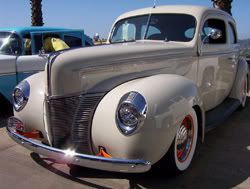 The interesting fact about the stats above is you see about a 10x multiplier effect working on many of the items. An average car now cost about $20,000, a movie ticket is averaging $10 in the Los Angeles area, and income in this particular area is about $45,000 per household in 2007. Unbelievably, housing is off on a multiple of
40x
since the median home cost is $500,000 in the said area. As you can see, inflation has treaded rather evenly with the other categories except for that of housing. Now why is this? What else was going on in the fifties? We had a relatively booming economy coming out of World War II and many have called this the glory days of the United States. Jobs were plentiful and the Fed had rates at all time lows.
Sounds very reminiscent to today except for the fact that our major base of manufacturing jobs is no longer in the states yet we are the largest consumer of these products. Neither is food production a major source of employment. Many folks find themselves working white-collar jobs nationally. To narrow the scope to Southern California, the largest booming job areas in the last few years are directly tied to real estate and housing; bank financing, construction, and housing ancillary products. Think of the last category as the Home Depot's and Lowes of our time. So essentially, we have been living off our homes for the past seven years. After the major attacks on the United States, the Fed went on a major credit flooding campaign lowering rates to near zero. Normally during a recession which we did have, housing starts and home prices retreat or fallback but instead we saw housing take an unexpected jump.
Not only did housing blaze a new trail, it went into uncharted swampland territory. No one can use past real estate cycles because we are truly in a unique, probably once in a lifetime housing bubble fueled by lose credit and a real estate industry that is enabling risky behavior. In addition as I
discussed in a previous article
many of these enablers are now suddenly making folks go cold turkey on the housing bubble. The game is essentially over yet those still partying have yet to receive the memo. First payment defaults are on the rise as reported by DataQuick and
mortgage fraud is running rampant
throughout the industry.
Yes, 2007 is very different from 1957 even though many things seem similar. Unlike the 1950s we do not have a positive savings rate…:
We do not have fiscal responsibility, and a home is no longer just a place to live; a home has suddenly become the impetus for keeping the consumer economy of the U.S. going. It is the Lost City of Atlantis were all you need to do is plaster a virtual housing ATM on the side of your front door and pull out of your wallet your home equity line of credit. If this is too complicated just shell out your plastic and swipe away; even this is going to be easier with Visa offering credit cards that use radio frequencies. Yet at the end of all this virtual money chasing binge, we are left with an immense deficit that needs to be paid back, with no savings! When will we start paying? Maybe that'll be another 50 year story.