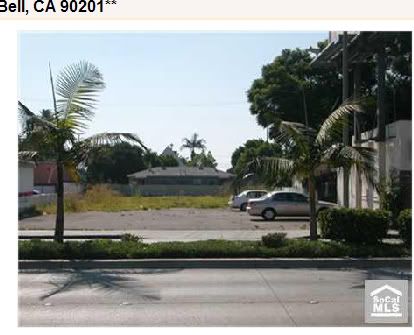 Most can spot a solid deal from a mile away and the above commercial lot in Bell is no exception. Whenever you can save $463,000 in four months, you are doing something right. How many folks make $100,000+ a month? Today we salute Bell with the
Real Homes of Genius Award
. Not only that, but we should create another section, the category of "I can't believe I had the guts to list something so ridiculously high" and smile at the end of the day. These folks had initially listed this "high in demand" lot for $958,000. They proceeded to do the following:

Okay, so the first reduction of $323,000 didn't bring any buyers to the table. After two months of sitting on the market the price was lowered another $140,000. Now we are in February and the property still sits. If anything, this property is a symptom of the housing bubble market mentality. What is running through the listing agents mind when he says "I have a great idea! Let us list this property for close to $1 million" and expecting someone to buy it only by doing radical and insane price drops? This strategy isn't new; list a home for a price way over appraisal and reduce the price until someone bites. There are two reasons for this. One, there is the perceived belief to the buyer that buying at a "discount" they are getting a deal. Can you imagine telling your friends and family that you saved almost $500,000 simply by waiting four months? You will be Einstein in their eyes and a modern day J.P Morgan. The second point is showing "action" on the MLS. Most agents and buyers that browse the net have their settings to show reduced homes in certain areas. By lowering prices, the buyers market has a perceived notion that this property is having some movement when in reality it is the opposite; consider this the smoke and mirrors technique in real estate sales.
Okay, well maybe the property value is supported by the local population. Let us take a look at those statistics:
Average household income is slightly over $40,000 a year. Even for this commercial lot, what is going to justify the ludicrous price even after a $463,000 price drop? Again, another symptom of the Southern California Housing market. When the dust settles on this people will look back and wonder how did something like this get so out of hand?
Today we salute you Bell with the
Real Homes of Genius award
.