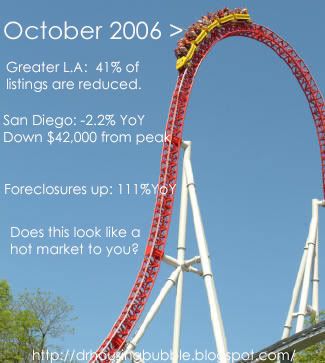 This quote from the L.A. Times article today:
"Now, the housing boom is over, with the slowdown expected to continue next year, according to a new forecast by the state's real estate agents. The median price of an existing California home will decline 2% to $550,000 in 2007 from a projected median price of $561,000 this year, according to the California Assn. of Realtors. Sales are projected to decline 7% to 447,500 units from 481,200 this year."
Okay, for one thing the C.A.R. has already demonstrated that they were wrong with their $561,000 prediction so why in the world are we to believe their rosy colored scenario of a 2 percent drop in 2007? They are predicting a moderate correction of $11,000 across the state of California. In addition, they are predicting sales dropping off by 7 percent. Are we following two different markets or are we drinking from two different data fountains? For one, sales are down a whopping 30% across the state from last year according to DataQuick. In addition, that two percent drop has already occurred! For example, Southern California has already seen a 2% drop since the peak in June 2006 of $493,000; by the way, we currently stand at $484,000 for those keeping track. For one, the C.A.R. will be wrong since they predicted a double-digit gain this year for the state when most likely, we will hit zero percent or even negative territory by year end. Great source of unbiased information. Did I mention they are an association of agents?
So you want to investigate yourself? You say, this isn't that bad right? Take a look at ZipRealty. They list 116,391 properties in the Greater L.A. area for sale. Want to guess how many are reduced listings? 48,136! In other words, 41 percent of L.A. county listings have been reduced or "cut" as I like to say. In addition, keep in mind this does not factor in listings that have expired or properties that have been taken off the market. What is also happening is agents are removing properties from the MLS and simply relisting them. So the 41 percent number is a low-ball number.
Now ask yourself this simple question: if the market was so hot why would nearly half of all listings be reduced? Not only that, why have sales dropped 30 percent from last year? Do these numbers line up with the C.A.R.'s glorious predictions?