Today we will exam our friend in Normal Heights. Each week I will dissect a property that is overly valued (like what isn't right now?) and has very little potential of selling at the current listed price. I will offer a prescription to alleviate the pain the housing bubble patient is facing. Today we exam the below San Diego property located in Normal Heights at a very "un-normal" price: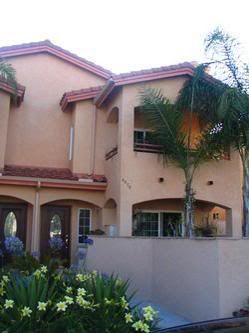 Before we go on some stats regarding the condo:
Price:
$579,000
Bedrooms: 3
Full Baths: 3
Partial Baths: 0
Square Feet: 1,677
Lot Size: N/A
Year Built: 2004
Listing Date: 07/01/06
On Market:
111 days
Type: CONDO/TH
Status: ACTIVE
On the listing we find that a previous twin unit sold for $674,000 and the seller is giving us an "instant $100,000" in equity. How generous of them to think of the nice poor buyer! Who in the world gives you $100,000 instantly? Even Howie Mandel makes you sweat on Deal or No Deal before letting a contestant walk away with $90,000 to $110,000 (the average of all contestants by the way). Is what this seller saying true?
Investigating previous sales records, we find that the previous property, which is smaller than this unit sold in 2004 for $492,000. Not sure where they derived their sky high price and instant Cup 'O Noodles equity? Maybe using the Zillow.com estimate. Regardless, this property has been on the market close to 4 months. We can see that the above patient has what we call "price so high like a retard and drop instantly for effect" syndrome:
Price Reduced: 07/2x/06 -- $649,000 to $599,000
Price Reduced: 09/0x/06 -- $599,000 to $579,000
Yet the first drop had no effect. Now we are quickly approaching winter and what is this seller to do? For one thing, this place is priced like a home but is only a condo. Second, this seller is fibbing since previous sales data is now easily accessible by the public. On the Dr. Housing Bubble scale of housing bubble pain, this one gets a prescription of: