Last week DataQuick released quarterly foreclosure numbers for the state of California. If anything the numbers again are pointing to a bursting housing bubble. Take a look at the chart below: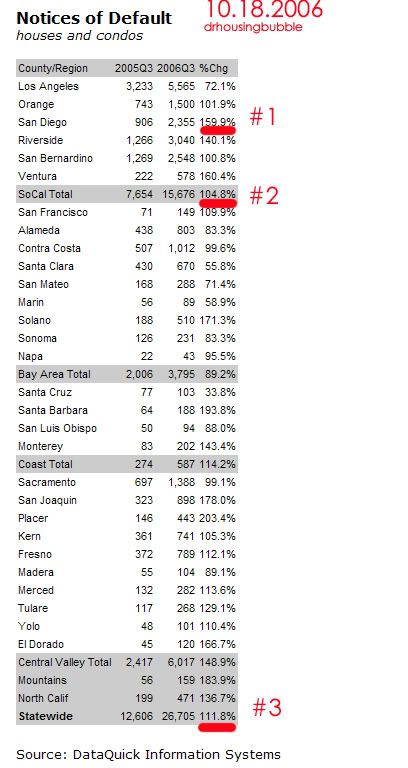 First, DataQuick has an interesting quote in the article accompanying this data:
"The median age of the home loans that went into default last quarter was 14 months, and more than half were originated in 2005."
More than half of the loans that are currently in the foreclosure stage were originated in 2005. In addition, the median age of loans in default is only 14 months.
14 months!
Think home owners did a Gumby and overstretched themselves? Let us dive into three key points from the chart:
1. San Diego is getting hammered. Foreclosures are up 159.9% from the third quarter in 2005. Didn't get that? San Diego is facing foreclosures up in the 160% range. In raw number terms we have 2,355 homes facing foreclosure where last year we only had 906. Let us run a hypothetical from the article. The average California home foreclosure was 5 months behind ($9,829) with a median mortgage of $306,000. Let us do the numbers above shall we?
2005 3rd Quarter = (906)x($306,000) = $277,236,000
2006 3rd Quarter = (2,355) x ($306,000) =
$720,630,000
Even at a low number, many housing head pundits say that the difference between 906 and 2,355 is negligible. Do you think half a billion dollars only in the San Diego area now at risk is negligible?
2. Southern California is up 104.8% in foreclosures. So you are telling me that this isn't isolated? Nope. This is statewide. Where last year the canary in the mine San Diego was facing pain, now all of Southern California is facing an increasing number of foreclosures. And we are talking a dramatic change.
3. Statewide California is seeing a jump of 111.8% in foreclosures. How this isn't big news boggles the mind. We currently have 26,705 homes facing foreclosure. Of course there are many stages to foreclosure as listed below:

But the difference now in 2006 as opposed to 2005 is:
• We are in a falling market
• By looking at the data, half of these loans originated during or post 2005. So much for having years and years of equity like many claim.
• Less buyers are in the market
• Many adjustable mortgages are, well adjusting (big surprise)
• Market sentiment is drastically changing
• An X factor as well. Many folks took out HELOC and home loans that have much higher rates. Equity is at all time lows even though appreciation has ramped up to all time highs. An oxymoron yes but foreclosures are through the roof. Like I discussed in a previous post, equity isn't yours until the certified check is in your hands after escrow is closed!
The market is changing day by day. Fall and winter are slow selling and buying seasons. I'm thinking the big show will be spring and summer of 2007 when many sellers think they will be able to unload their homes at peak prices. Unfortunately like the five year old learning there is no Santa Clause, they will find out the equity bunny is nowhere to be found.