2006 will be known as the year real estate hit the breaks. Many people for one reason or another seem to be astonished that this shift has occurred. But let us look at the data released by DataQuick for September 2006 to see what really is going on: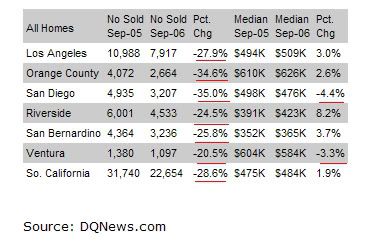 I've underlined the key points that are causing the market to trend lower. On average, sales are off on average by 28.6 percent. In some areas like Orange County we are off 35 percent year over year! That is correct, sales have dropped by an astounding 35 percent and apparently no one seems to care. Add the increase in inventory and many folks pulling off their houses thinking that in spring 2007 things will be better. Guess how may folks are thinking like this? And what do you think will happen when massive inventory hits the market, less buyers appear, and appreciation is now negative?
Now you may ask, why do I have any credibility talking about real estate? Great question. During my undergraduate years, I actually worked two years for a local broker and still have an active real estate license in the state of California. I am no longer in the industry but still have a strong interest in real estate like many of you do. Yes, maybe I'm a wolf in sheep's clothing but the reality is I transitioned into a very different industry and have a graduate degree. During the time, let us say it was part of the boom years, I was making a decent income for an undergraduate. The licensing test was absolutely the easiest thing I had ever taken – essentially, I bought a Tom Vu self study course and taught myself real estate. The music reminded me of those 80s movies with synthesized music playing in the background. Real estate was fun and there is definitely a lot of potential in the field. And it is very hard to be a good real estate agent so let me tip my hat to those out there. And this will only become harder as there are +510,000 agents in California alone (and still growing by the way).
http://www.dre.ca.gov/stats05_06.htm
But coming back to why the data is so important in what DataQuick has produced. Information now travels much more quickly. Even a few years ago when I was in the industry we did not have places like Zillow or Ziprealty accessible to us. The advantage as a realtor was that we had a stronghold on the MLS and we had previous sales data. Even though previous records are public, how many people are going to go down to their local Registrar to do research? Not many unless you are a serious real estate investor. But with these new tools, you can see that the trend down will accelerate because of ease of information flow. By the way, this is record year over year sales decreases for Southern California. Even the N.A.R. who in the beginning of the year claimed real estate gains of 5 to 10 percent is now recanting; good job considering we are two months from year's end! I think my 7 year old cousin made that prediction in July so maybe she should get a prize too. You can do your own research digging up their old predictions (thanks to Google cache) but they have pulled or modified their current forecasts.
These numbers are large and in charge like my uncle used to say. They command attention and are a better litmus test of what is to come. If you are looking to buy there is no reason for you to jump in right now. Heck, even rates are holding steady or even going down so don't let the mantra of "rates will zoom up" scare you. Ultimately housing is about value, equity, security, and location. These things have an economic value and most can understand that the current value is out of whack thus creating a bubble. In a future article I will discuss the massive increase in land value over the last few years as opposed to an increase in housing material costs. A definite marker of housing speculation. Even John Law made out speculating on land in Mississippi until it all went bust. What is your takes on the current market numbers?