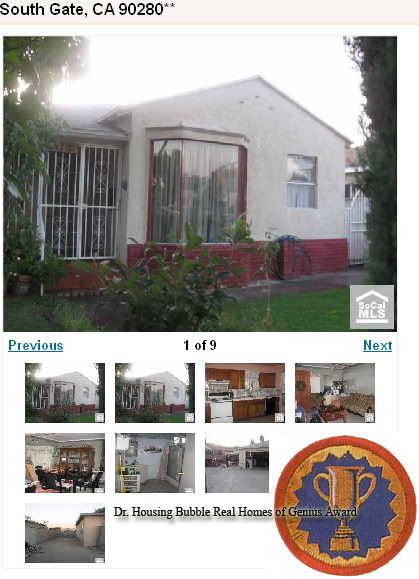 Today we salute South Gate for the Sunday Dr. Housing Bubble
real homes of genius award
. Yes, even though the above house is only 796 square feet and is 2 bedrooms and 1 bath, it is full of eager home buyer potential. So much potential that it has been on the market for 138 days. These folks have so much demand that they have reduced the price as follows:
Price Reduced: 09/22/06 -- $475,000 to $463,000
Price Increased: 10/17/06 -- $463,000 to $475,000
Price Reduced: 12/04/06 -- $475,000 to $449,000
Price Reduced: 01/12/07 -- $449,000 to $439,000
Price Reduced: 01/13/07 -- $439,000 to $397,000
Too much demand in September that they bumped up the price for Christmas shoppin. However after that, a nice $78,000 drop in a few months. I'm sure they've dropped it as such for the addition of more bars to the front door. But surely Zillow is correct when they assess this home at $434,000 no? Well let us look at the irony of Zillow: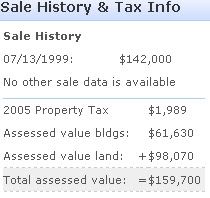 First, Zillow gives you a Zestimate of $434,000 and in the same page, you can pull up the previous sales data. The last time this home sold was in 1999 for a whopping $142,000. These aspiring Donald Trump moguls wanted to pocket
$333,000
in 7 years!
Ah yes, we salute you South Gate for being a real warrior and
genius of housing
.